An American artist born in Cleveland, Ohio in 1922, Robert M. Ellis was an influential artist, educator and museum director. His professional career spanned six decades. Throughout his long and exceptional career, Ellis never stopped creating and exhibiting his own art.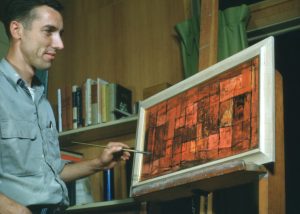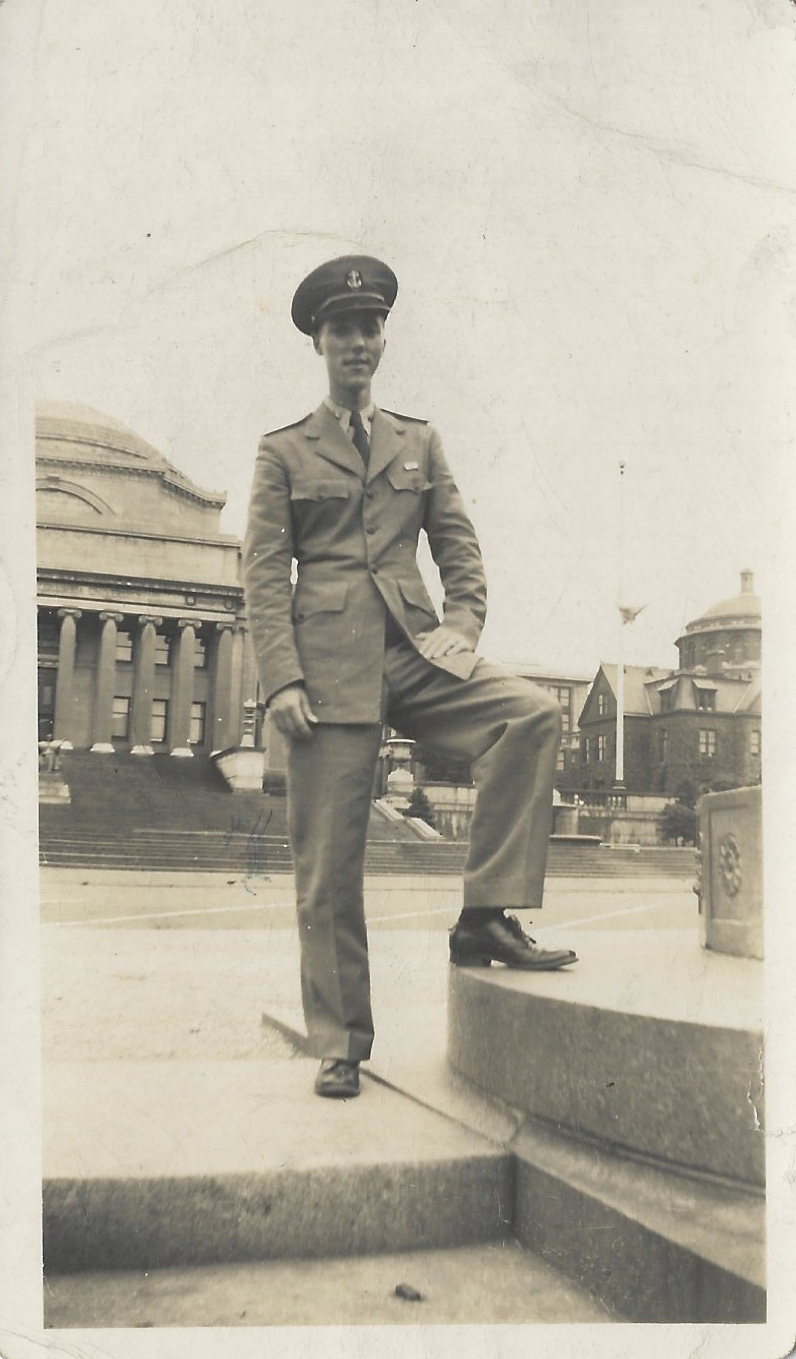 From 1942 to 1946 Ellis served as a naval officer in WWII. Along with many from his generation, he took advantage of the G.I. Bill and graduated from the Cleveland Art Institute. Influenced by the Mexican figurative artists Diego Rivera, Jose Clemente Orozco and David Alfaro Siqueiros, Ellis traveled to Mexico and received a BA at Mexico City College, Mexico City. Mexican art and culture would remain a life long influence.
In the 1950s Ellis moved to the Los Angeles area and received an MFA from the University of Southern California, where he also taught. From 1956 to 1964 Ellis served as Curator of Education at the Pasadena Art Museum during a time when the museum was playing a pivotal role in establishing Southern California's reputation as a major contemporary art center. Ellis was skilled in the graphic arts and designed all of the museum's graphics. His love for small presses and typesetting influenced his artwork, particularly in his "Letter in the Landscape Series" produced in the 1960s. An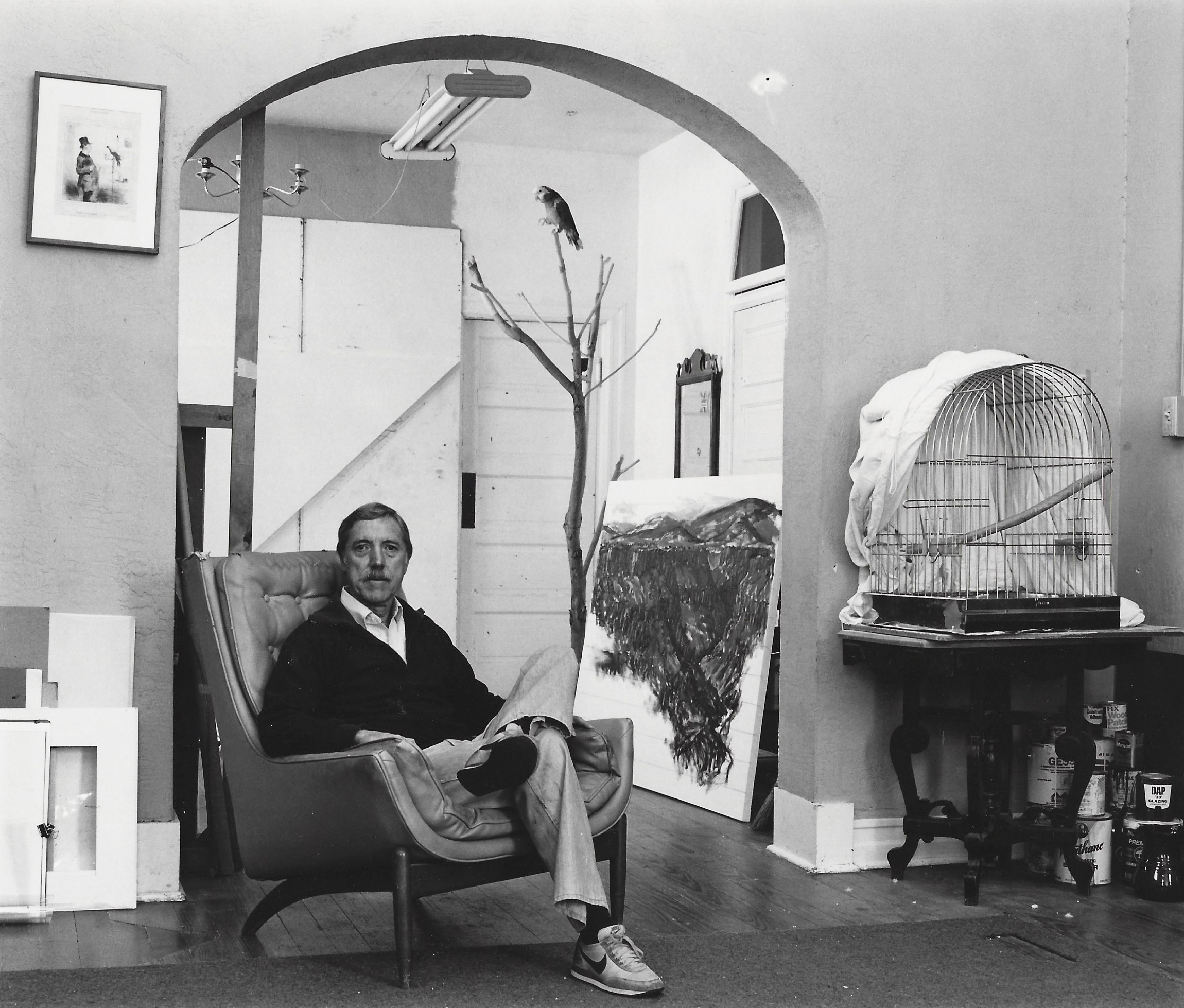 exhibition of paintings created during a year in Paris (1960-61) was presented at the Pasadena Art Museum, fall 1961. In 1964 Ellis began his career with the University of New Mexico's art department and moved to Albuquerque NM. Moving from the figuration of his youth the work created during his tenure at the University of New Mexico's art department was classical in technique but an amalgam of expressionist and surreal imagery.
Inspired by the expansive landscape of Northern New Mexico, after his retirement from UNM, Albuquerque, Ellis moved to Taos and produced a series of Northern New Mexico landscapes (1980s). These compositions were often a spacious bird's eye view of a grid of fields positioned in front of mountains set along a high horizon line. Original and unique in perspective and shape, often rhombus or kite forms, these works offer a fresh visual and emotional representation.
Ellis's retirement was short lived as he soon became the Director at UNM's Harwood Museum of Art, Taos, NM. This decade long journey transformed the small museum into a world class venue. Widely appreciated for his leadership at the Harwood Museum of Art where he expanded the two-room gallery and public library to seven galleries and a world class destination for contemporary art devotees, Ellis's personal work was placed in many regional museums and acquired by private collectors and placed in public collections. His acquisition of seven paintings by the pre-eminent American artist, Agnes Martin (1912-2004), Ellis's close friend, and the construction of the gallery

where they are on permanent display have earned Ellis international acclaim. However the art of Robert M. Ellis, his influence on younger artists, his original contributions and market recognition have often been under-appreciated and misinterpreted during his life time, according to Malin Wilson in her essay in Aegean Reverie Works from 2004-2012.
In 2003, Ellis embarked on an Aegean cruise which led to an astonishing series of abstractions influenced by the marble columns of Greek architecture, sacred Aegean Temples and the Mediterranean palette. The series of paintings and prints created after this journey comprise the bulk of the last series by Robert M. Ellis. They have been well received and exhibited.
Robert M. Ellis passed away on September 13, 2014.